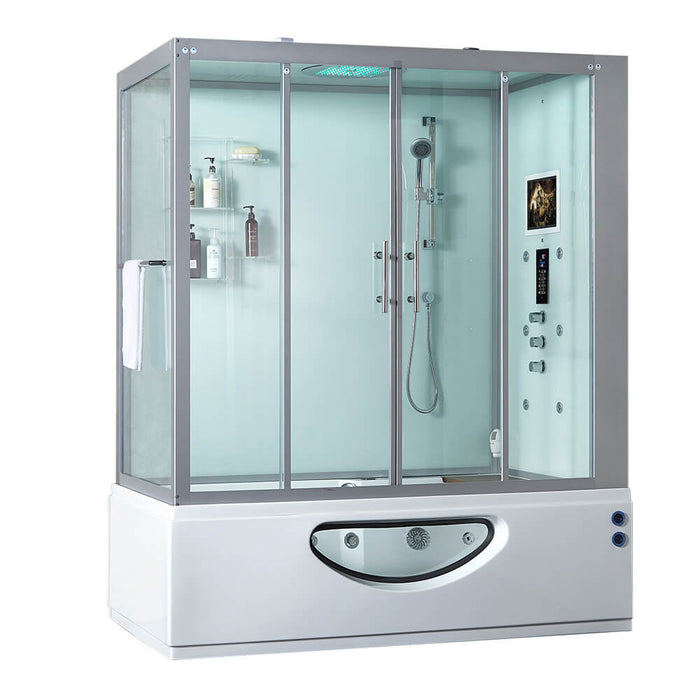 Maya Bath Platinum Catania Steam Shower
US Based Customer Support: 1-888-704-3345
Product Questions? Call Us
Save

34

%
Save

34

%
Original price
$11,995.00
Original price
$11,995.00
-
Original price
$11,995.00
Original price
$11,995.00

Inside the Catania Steam Shower you'll find many relaxing elements including acupressure massage, aromatherapy, foot massage, and the popular rainfall ceiling shower.
Entertainment options with your Steam Shower Unit include Bluetooth, FM Radio with audio frequency input, MP3 Player, a high quality speaker system, and of course the 12″ Smart TV and telephone.
The perfectly designed acrylic Steam Shower unit is reinforced with durable fiberglass backing, includes a solid stainless steel framing and fixtures such as door handles, towel racks, shampoo racks etc, and uses beautiful tempered glass known for strength and longevity.
This Steam Shower Unit fits nicely in the corner maximizing bathroom floor space.
Catania Steam Shower Dimensions: 71" L x 38" W x 88" H
– 12″ inch Smart TV: Adds excitement, delivering live entertainment.
– Whirlpool Bathtub: 2 headrests and an arrangement of 27 jets are located for a powerful hydro massage.
– Whirlpool Heater: Keep your Whirlpool Bathtub Heated which keeps the water at a constant temperature.
– Acupressure Massage: There are 6 back massage jets inside the Steam Shower Unit.
– Computerized LCD Control Display: Turns on/off the power, lights, fan, radio, etc.
– Aromatherapy: Simply place solid or liquid aromatherapy scents during use for wellness benefits.
– Ozone Sterilization System: Kills bacteria and viruses, allowing the next use to be germ free.
– MP3 / CD Player Compatible: Play your favorite music while using the Catania Steam Shower.
– Fog Free Mirror: Stay fog free in the steamiest conditions.
– Foot Massage: Puts mechanical force and hydro pressure together.
– Chromotherapy Mood Lighting: Sets of lighting adding romance, and mood lifting capabilities.
– Hands Free Telephone: Accept incoming calls with an integrated Hands Free Telephone.
– Steam Sauna: Quickly produces steam helping you increase blood circulation, detoxify, and feel relaxed.
– Underwater LED Lights: Two sets of lighting adding romance, and mood lifting capabilities.
– Hand Grips: You can easily sit and stand inside the Steam Shower using the hand grips.
– Handheld Adjustable Shower head: Couples can enjoy the Steam Shower together.
– Pedal Drain: Simply push down on the pedal drain with your foot popping up the drain to drain water.
– Waterfall Inlet: Offers a soothing sound of water falling gently for relaxation effect.
– Emergency Alarm: With one push of a button, a loud alarm rings out for help.
– Rainfall Ceiling Shower: Surrounded with Chromotherapy mood lighting giving a tropical rainfall experience.
– Water-Resistant Remote Control: Operates features of the unit.
– FM Radio and Audio Frequency Input: You can tune into your favorite FM stations.
– Surround Sound Speakers: Integrated with the Telephone, MP3/Radio and TV.
– Ventilation Fan: Keeps heat and air density at a desirable level inside the Steam Shower.
– Automatic Safety shutoff: During overheats, the unit will automatically turn-off to protect the user.
– Storage Shelves: Designed with spacious storage shelves available for shampoo, soap, etc.
Specs
Dimensions
71 × 38 × 88 in
Product Material

100% Acrylic with Fiberglass Reinforcement,

Stainless Steel Framing and Fixtures,

Tempered Glass Panels

Person Count

2 Person

Bathtub Heater

Included

Number of Jets

33

Tub Capacity

55 to 95 Gallons

Water Depth

16"

Mounting Type

Free Standing (On Floor)

Hardware Kit

Included

Unit Shape

Corner

Door Type

Sliding doors

Drain

1.5" Flexible Hose Drain

Water Supply Connection

.5" Hot/Cold Flexible Hose

Steamer Wattage

5000W

Electrical Requirements

2 Dedicated 220V Lines, 40A, 16A
Shipping & Returns
Estimated Product Handling: 2 to 3 days
After placing an order, customers have up to 48 hours to cancel the order unless the item has been crated and/or shipped.
Orders for large or heavy items ship via a trucking carrier. Freight delivery is typically 2 to 6 business days, allow extra time for remote locations. The Freight Carrier or Tucking company will contact you to set up an appointment time before delivering.  Once your product leaves our warehouse, we will send you an email with a link to the freight carrier's website and the tracking number. Tracking numbers take 1 business day to update.
Package Inspection
Please inspect your package upon delivery. If there is obvious damage, please note the damages on the delivery receipt. Contact us within 72 hours to report the damage, by either e-mail or phone. Please retain all original boxes and packaging.
Returns (Applies to Maya Bath products only)
Returns are accepted for brand new and unopened products only.

All returns must be requested within 20 calendar days from the delivery date.

The product must be in the original packaging and include all packaging materials, crates, boxes, and pamphlets.

All returns include a 15% restocking fee.

Customers are required to pay for the cost of return freight shipping.

The final return amount will be calculated as the Purchase Price less return shipping cost less the 15% restocking fee.
Customers are responsible to review the product spec sheet prior to purchase and to confirm the product complies with required state, county, and city permit requirements.
FAQ
How Long Will My Order Take To Arrive?
Your order will leave our warehouse within 1-2 business days if the item is in stock. You'll know when it ships because we'll send you the tracking number
The trucking carrier will call you to schedule a delivery appointment on a day and time that works for you. Please provide us with a valid and or alternate contact number to avoid delays with your order.
How Difficult Are The Units To Assemble And Install?
The units are relatively straight forward to install and can be likened to a washing machine in many respects. Your plumber should run hot and cold water feeds to the rear of the unit with connections for the unit's standard braided hoses. Please make sure your plumber runs water through the new pipes into a bucket before connecting the pipes to the shower.
The steam shower comes with a pre-connected flexible drain hose that requires installation into your home's drain piping.  The unit comes flat-packed and the constituent acrylic panels, aluminum columns and glass are connected using screws and bolts that are provided. To complete installation it is important to make sure the unit is carefully sealed with standard bathroom silicone to avoid any water leakage.
Do The Products Come With Installation Instructions And A User Guide?
Yes.
Each steam shower is supplied with both installation instructions and a user guide.
What Plumbing Connections Do I Need?
The unit comes with all the water pipes necessary to connect the unit's own massage jets and showering functions. In addition, the unit has two flexible hoses to connect to your home's hot and cold water supplies. Connected to the shower drain is a 4 foot flexible hose in length.
Your Units Come With A Ventilation Fan. Do I need An extractor Fan In My Bathroom?
During a steam session a large quantity of steam is produced and is largely trapped within the steam shower. Once the door is opened the steam will quickly expel into the room.
It is important to have good ventilation to allow this steam to escape from the bathroom otherwise the steam will condense in your bathroom and could lead to mould or other related problems in the future. The build up and condensation of the steam can also be likened to that of a long hot shower.
If the room has a window then opening this window will quickly expel most of the steam from the bathroom and provide good ventilation. An extractor fan is not essential although good ventilation is an important consideration.
When My Order Is Delivered, Will It Be Brought Inside My Home?
Oversized shipments usually ship by truck on a pallet and are normally delivered curbside delivery only. If a special delivery is needed, please give us a call or contact us by email so we can discuss additional shipment options.
*additional charges will incur on special requests but are limited to the delivery company's services.
Can This Unit Be Used As A Normal Shower?
Yes this is a steam shower unit. You can select just a shower function, steam function, or a steam and shower function if you'd like.
How Will The Steam Shower Arrive? Does The Unit Come Pre-Assembled?
Your steam shower will arrive in 1 to 3 wooden crates and all crates will go through any door way of 28″ or wider.
Our steam showers come largely pre-assembled with the massage jets, electric wiring and water pipes already connected. The unit is supplied with its constituent panels flat-packed for easy maneuvering through doorways.
These adjoining panels will be bolted together and sealed with silicone to provide a relatively straight forward installation. Simply connect any pipes/wires that join the plumbing/electrics between adjacent panels, hook up the hot and cold water feeds, electric supply and waste drainage and you are ready to go.
I Would Like To Place The Steam Shower On The Second Floor, Will There Be A Weight Problem?
The unit is about 700 lbs. plus water and your weight, and that is definitely a case by case type question.
Please consult your contractor based off of these weights we have provided.
Do I Install The Shower Before The Drywall Or After?
The steam shower will need to have the wall finished and the floor finished first before installing the shower. Never tile around it.
The floor is the most important because if you tile around the shower, you won't have a way to slide the unit out if you need access to the back of the unit. To service the unit, you will require access to the panel in the back. If an access panel is not available, then you will need to slide the unit out.
Do You Offer Any Installation?
We do not offer any installation, but any licensed plumber or contractor will be able to install the steam shower unit.
Professional installation is recommended.
What Is The Water Pressure And Volume In GPM Required To Run The Unit Correctly?
Standard house hold water pressure of 40-60 psi is about what you need for all functions to work properly.
Where Is The Steam Generator Located?
The steam generator is already built into the back of the unit towards the bottom.
What Cleaning is Needed For The Steam Showers?
Our Steam Showers are easy to maintain if you follow these guidelines and cleaning recommendations.
ARYLIC
To treat the ceiling, flooring or wall of the steam shower is it recommended that you rinse it out after each use to help prevent a buildup of soap or bath products. To care for the acrylic clean it regularly with a mild cleaners and a soft sponge or brush.
Avoid any harsh chemicals or cleaners on the acrylic finish and if exposed, rinse away immediately. Do not use any cleaner that is not safe for acrylic or plastic as stated on the container.
To maintain the shine on the acrylic, wax and polish the surface with car wax. This can buff out and minor scratches and restore a dull surface. Do not wax the areas where you would walk or stand.
GLASS
To avoid soap deposits or hard water build-up on the glass, wipe dry after each use. We recommend using a squeegee after each use.
Cleaning the glass regularly or weekly, we recommend using a daily cleaner, such as Tilex Daily Shower Cleaner. Using this will delay and fight the build-up of soap scum and hard water spots. You may also use any natural cleaner or daily cleaner that will not harm your shower. Remember to also clean the outside of the glass as well. Use Windex or another glass cleaner and wipe way with a soft cloth or towel.
It is inevitable; you will get hard water sports and a build-up of shower product on the glass of your stream shower. When this happens, try a natural solution first before turning to a harsher chemical. Use an equal solution of Dawn dish soap and vinegar. Allow this to sit for 5 to 10 minutes on the build up before using a sponge to scrub. Rinse with cool water. If the spots still persist, use a product designed for calcium and lime deposits. Follow all instructions on the container.
To help combat watermarks, spots and build up, you may use Rain-X on the glass only. Follow instructions on the bottle.
METAL
To prevent a buildup of water and shower product, it is recommended to wipe down the tracks each time you use the steam shower. Drying the area will combat a buildup and/or mold.
Cleaning the metal tracks and pieces on your steam shower can easily be done. One tip is to fill the bottom track with vinegar, careful to plug any holes so it can sit in the track overnight. Rinse the vinegar away in the morning and wipe clean.
Another tip is to use a cleaner designed for the shower that is safe on metal and use a toothbrush or small soft bristle brush to get in the hard to reach places. Once you finish scrubbing, rinse and dry the area.
Does The Steam Shower Come With Everything I Need?
The steam shower comes with everything required for successful assembly.
Can I Use Aromatherapy With These Steam Showers?
Yes, aromatherapy can easily be used inside the steam emitting cup.
What Does The Inline Heat Pump Do?
The inline Heat Pump is attached to the water pump, and the heat pump will maintain the water temperature in the tub portion of the unit.
Warranty
Purchases of Maya Bath products greater than 20 calendar days of delivery are subject to the terms and conditions of the Maya Bath manufacturer warranty included with the Maya Bath product purchase.
Maya Bath provides a 10 year manufacturer warranty on all Maya Bath product purchases.  This warranty covers replacement of defective parts only, not the complete product, unless deemed necessary by a Maya Bath customer service representative.
The warranty does not cover: damages incurred as a result of installation, replacement or repair; damages due to improper cleaning, misuse or neglect; or "living finishes."