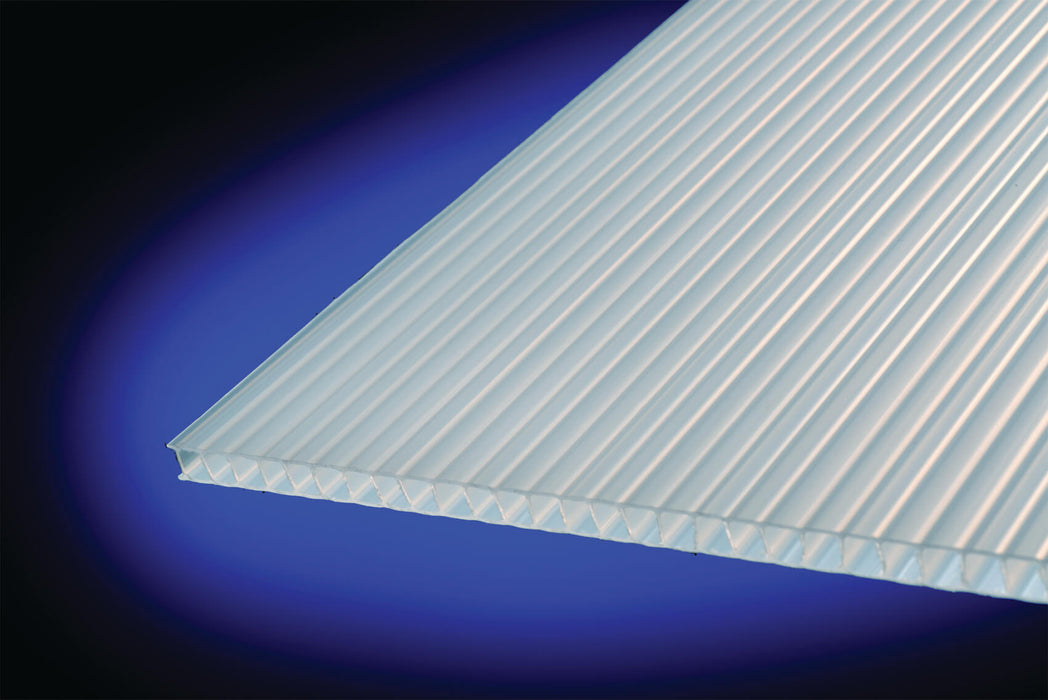 Solexx Pro Rolls Bulk 5mm (77.5 inches wide) GSR-240-6
US Based Customer Support: 1-888-704-3345
Product Questions? Call Us
Save

28

%
Save

28

%
Original price
$6,999.99
-
Original price
$6,999.99

Solexx 5mm Pro bulk rolls are 77.5 inches wide and are 300 feet long (1,937.5 square feet).  Purchasing Solexx Pro rolls in bulk saves money and provides you with extra material that be utilized for additional projects. 
Solexx greenhouse covering comes in custom cut lengths of up to 900 feet.  The bulk greenhouse rolls are ideal for re-covering an existing shed and turning it into a sunroom or creating your own DIY garden structure.
Unlike other greenhouse coverings, Solexx panels come with extra width (1 inch to 1.5 inches), to overlap panels for easy application. Solexx twin wall panels provide superior insulation to hold in the warmth and keep your heating costs low.
Solexx Panel Insulation Values:
5mm panels: 2.30 R-Value & .48 U-Value 
Solexx greenhouse covering material is designed to maximize diffusion for your plants.  The flutes between the two layers of Solexx covering diffuse the sunlight inside your greenhouse or other structure.  
This creates ideal growing conditions for your plants, proven to be better than hot direct sunlight.  The insulated panels keep your greenhouse at a more consistent temperature in summer and winter, enabling you to garden all year long.
Solexx offers a 10 year UV warranty with an even longer life expectancy. Strong and shatter proof, Solexx panels withstand snow, wind, hail, and won't fade or yellow over time. The panels also require very little maintenance. 
Solexx 5mm Pro Rolls Bulk size: 
77.5 inches wide x 300 feet long (1,937.5 sq. ft.)
SKU#: GSR-240-6 (300 ft. size)
Included Features
Solexx is flexible and can wrap over peaks and around corners to create a watertight seal.

Solexx scores and cuts easily, no power saw required.

Installs both vertically and horizontally (unlike polycarbonate) for less waste.

Available in two sizes: 3.5mm for almost all applications and 5mm for use in high altitude or heavy snow areas.

Join panels together with optional H-Channel (for structures 8 feet long or less) or simply overlap panels (panels are an extra 1 inch to 1.5 inches to allow for overlapping.

For optimum support, set studs or trusses 2 feet apart on center.

10-year limited UV warranty

FREE delivery!

 

(in the contiguous 48 states)
Specs
Covering:

Solexx Twin-Wall Polyethylene

SKU:

GSR-240-6 (300ft size)

Size:

77.55" x 300ft. (1,937.5 sq. ft.)

Panel thickness:

5mm 


Insulation Rating:

R-value: 2.30, U-value: .43

Warranty:

10 Year Prorated

MADE IN THE USA
FAQ's
Should I use 3.5 or 5mm paneling?
Solexx panels are available in 3.5mm or 5mm thickness. The 3.5mm panels are recommended in most areas because they provide more light transmission.
The 5mm panels are used in colder climates (for added insulation) and for high altitude areas. It is also recommended on many custom structures for added support. 
What makes Solexx Greenhouses different than others?
Solexx greenhouse panels are polyethylene and not polycarbonate. Solexx manufactures the material with a special UV formulation for longevity. 
The covering is insulated to cut down heating and cooling costs, but most importantly, the translucent quality of the plastic provides outstanding light diffusion in the greenhouse.
University tests have shown that plants growth is accelerated by 25-30% under diffused light. Solexx also is one of the highest insulated greenhouse materials available, saving you money in heating costs.
Where are Solexx Greenhouses made?
Solexx Greenhouses and Greenhouse Covering have been manufactured in the USA for over 25 years. Solexx offers American made products at its headquarters in Salem, OR!
What difference does this make to the customer? The product instructions are written in English with detailed explanations. Should you need a replacement part, we can easily and quickly get you what you need. 
The panels are translucent? What makes a greenhouse with diffuse light better than a clear greenhouse?
Solexx panels diffuse the light evenly throughout the greenhouse eliminating "hot spots" and shadows. Also, a bit less light transmission will help to keep your greenhouse from getting too hot during warm weather and keep your plants from burning.
Diffuse light is critical for optimal plant growth because diffuse light bends around corners and reaches all of the plant's leaves instead of just the upper canopy.  The additional light exposure substantially increases the plant's photosynthesis, creating more energy and more robust, healthy growth. 
Additionally, plants will not burn under Solexx, making it the ideal choice for both shade and sun-loving plants. The unique Solexx greenhouse covering transmits 70-75 percent of the available light. Most plants only need 40 percent light to grow, but 70-75 percent available light is the optimal growing range. Even on cloudy days, your greenhouse has a pleasant, soft glow inside.
Does the covering break down in the sun?
Solexx panels contain UV inhibitor throughout the material; it is not simply a coating that can scratch or wear off. The covering has a 10 year limited warranty against ultraviolet breakdown.
Solexx greenhouses have been in the field for well over 25 years and there has been minimal UV degradation. All plastics do eventually break down when exposed to direct sunlight for extended periods of time; however, these panels are easy and inexpensive to replace.
How do you clean the paneling?

Solexx paneling can be rinsed or wiped clean without worry of scratching. The panels are impervious to chemicals so you can wash them with a mild soap or a bleach solution. It's a good idea to do this a couple times a year to keep your greenhouse clean and to maximize light transmission.
How does the paneling hold up in cold or snowy weather?
Solexx panels are very durable. Solexx greenhouses have been undamaged after being covered in several feet of snow and exposed to subzero temperatures for most of the winter. Snow tends to slide right off of the slick paneling material. Unlike many greenhouse materials, our panels will not yellow from the sun or cold.
What are H-Channel and U-Trim used for?
H-Channel is used to join the panels together on the long side (another option is to overlap the panels). We recommend caulking the open flutes of the panels with clear silicone caulking to keep bugs and moisture out and maximize the insulation. U-Trim gives the 4' ends of the panels a nice finished look.
What are the differences between polycarbonate and Solexx panels?
Solexx greenhouses are made with polyethylene. Polyethylene is much more flexible and is easy to cut to any size. Polycarbonate panels tend to be thicker, but have a lower insulation factor than polyethylene.
Both materials diffuse light, but polycarbonate diffuses less (because it is more transparent), making the greenhouses much hotter in the summer. Polyethylene is very easy to clean and will not scratch like polycarbonate. Polyethylene does not contain BPA's that are found in polycarbonate materials and Solexx does not scratch.
How do you cut the panels? Is it easy to do?
Solexx panels can be cut with a simple utility knife. Because the material is so flexible, it's also possible to bend it around the curves and corners on a structure.
Is Solexx Recyclable?
Solexx panels are high density polyethylene and have the same recycle number '2' as plastic milk jugs. 
Shipping & Returns
Estimated Product Handling: 2 to 3 days
After placing an order, customers have up to 48 hours to cancel the order unless the item has been crated and/or shipped.
Orders for large or heavy items ship via a trucking carrier. Freight delivery is typically 2 to 6 business days, allow extra time for remote locations.
The Freight Carrier or Tucking company will contact you to set up an appointment time before delivering.  Once your product leaves our warehouse, we will send you an email with a link to the freight carrier's website and the tracking number. Tracking numbers take 1 business day to update.
Package Inspection
Please inspect your package upon delivery. If there is obvious damage, please note the damages on the delivery receipt. Contact us within 24 hours to report the damage, by either e-mail or phone. Please retain all original boxes and packaging.
Returns (Applies to Solexx products only)
All returns must be pre-authorized and require a return authorization.  Please email contact@enhancedleisure.com to request a return authorization.

  
All returns must be requested within 30 calendar days from the delivery date.
The product must be in the original packaging and include all packaging materials, crates, boxes, and pamphlets.
All returns include a 15% restocking fee.
Customers are required to pay for the cost of return freight shipping.
The final return amount will be calculated as the Purchase Price less return shipping cost less the 15% restocking fee.